A little background information on this picture.  This was taken at the last Ranch Horse show in 2011.  Pictured left to right is Peppy Lil Hotrodder, Chick N Badger, Kickin Lil Peppy & Watch My Badger.  The three are all get of Chick N Badger.  We found it exciting to be showing three horses out of the same horse( Chick N Badger) and Tim used Badger to turn back.  Dad purchased this horse out of the Atwood sale many years ago. As you can see, we were lucky to have raised a lot of good horse out of him.  Chick N Badger has since passed away, but all three of these horses are still being rode & enjoyed.
We are proud to include a seperate page on our web site dedicated to the accomplishments of the folks that have purchased horses from HAR.  These horses are all progeny of our studs.  Congratulations to all and here's to continued fun, success and good fellowship that our horses have brought to us.

For further information and the latest & greatest accomplishments of all these horses please go to the American Ranch Horse or the Indiana Ranch Horse Association 
We have found great pleasure and success showing with both of these associations.





  
Miriam & HAR Peppy Lil Cowboy
'Floyd' grew to be a bit bigger than I had planned, but that doesn't slow him down in the show pen!  He is fond of cows and pretty handy in his dry work.  I have had a good time bringing this colt along.  He has done fairly well and I look forward to having him around for a long time!  This horse is out of our favorite cross:  Hesa Texas Cowboy and Fancy Lil Peppy.
Miriam & Kickin Lil Peppy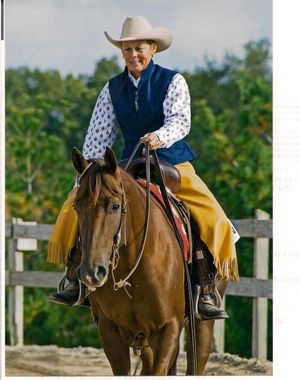 Ok, now I get to brag on my gelding.    He is out of Chick N Badger.  I really like the athletic ability and the smartness of our Lil Peppy off spring.  It is amazing to have a horse that I truly like and trust and has helped me ride in classes that I would never dreamed of going in otherwise.   There is a saying that goes: " There is nothing better for the inside of a person than the outside of a horse."   Buster has always been there for me.
   ARHA Life Time Awards for Buster
Register of Merit
2012 - Amateur Ranch Reining, Ranch Riding
2013 - Amateur Geldings 3 & Over, Ranch Trail, Working Ranch Horse
2017 - Amateur Ranch boxing
2018 - Amateur Ranchmanship
2020 - Amateur Ranch Roping,Amateur Herdwork
2021 - Amateur Ranch Boxing
ARHA Ranch Horse Champion 2013-1 ROM in Conf, Performance & Cattle class  
 Performance Versatility - 5 ROM's in 5 events -  2013
ARHA Ranch Horse of the Year -
2013 -Amateur Working Ranch Horse 
2014 - Amateur Working Ranch Horse
ARHA Superior Event Horse -   200 points in any class
2014 - Amateur Ranch Reining      
  2018 -Amateur Ranch Cutting & Amateur Working Ranch Horse  
2020 - Amateur Geldings 3 & Over, Amateur Ranch Riding, Amateur Ranch Trail